Gentex UPV Pipes are manufactured using high quality grade raw material and state of the art machines. Being the leading pipe manufacture with vast knowledge and experience in UPVC Plumbing systems, we aim to deliver superior products to our customers. The UPVC pipes are produced as per international standards and are also UNBS certified.
Gentex plastic piping systems is a technically superior, cost effective solution for water supply , portable water distribution and drainage applications. These system is very easy to install and functionally suitable. In addition, it is far cheaper than conventional piping products, and offer a longer service life. Different pipes and wider range of fittings are manufactured in metric and inch series as per various standards
Pressure Pipe and Fittings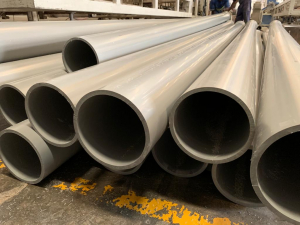 Joining HDPE compression fitting with a PE pipe
| | |
| --- | --- |
| Features | Benefits |
| High standards and wide range | High impact strength |
| Quick and efficient installation | UV-Stabilized, suitable for all weather condition |
| Quick removal of waste without leakages | Long lasting and cost effective |
| Adequate and easy access for cleaning and clearing obstructions | Good economic life |
Soil, waste and Rin Water (S.W.R) Drainage System

| | |
| --- | --- |
| Features | Benefits |
| Stronger, Resilient and Longer Lasting | Excellent corrosion and chemical resistance |
| Most suitable for carrying drinking water | No sediment deposition, no reduction in bore size |
| Mirror smooth inside surface | Simple and leak proof joints |
| UV Stabilized | Light weight, easy and fast installation |
| Unique self-extinguishing quality | Overall economy |
Integral Rubber Ring Socket (Flexible Joint)

Gentex Rubber Seal pipes have several salient features:
Reliable, Leak proof joints

Easy and convenient installation. No need of solvent cement

Corrosion, chemical & biological resistant, ensures pure water flow

Can be tested immediately after installation save pipeline commissioning

Flexible. Can accommodate slight soil movement and also tolerate small gradients.

Can compensate linear expansion and contraction.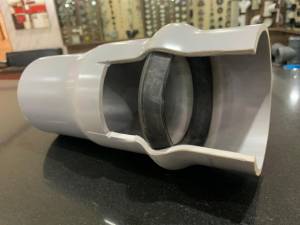 Seal Fit Specifications

Colour

Light Grey

Pipe Ends

One end socketed rubber ring and the other end is chamfered

Standard Length

6 or 5.8 meter inclusive of socket length

Applicable Standard

DIN 8062 or ISO 4422/2 or US 264

Working Pressure 23°C

Available in PN4 to PN20

Gentex UPVC Water Pipe Specifications
Gentex offers UPVC pressure pipes in metric series as per the German standard DIN 8062 and ISO standard 4422/2. An exhaustive range of UPVC Pressure pipes are also offered as per ASTM, D1785 SCH 40 respectively.