Gentex High Density Polyethylene (HDPE) water pipes have been used in applications since 1995. We manufacture pipes in the desired diameters between 20mm to 1000mm and PN6 to PN20 pressure classes, depending on size and application. We use high quality material grade PE 80 and PE 100. The piping complies with the DIN 8074 standard requirements as well as the UNBS (Ugandan bureau of standards) mark.
Because of their perfect elasticity, Gentex PE pipes can turn up to a radius of  20-30 times their outer diameter. Other types of pipes can only turn 11° and 22° by using elbows and fittings. Our pipes can turn these angles without angles or fittings, which results in savings of time and material.
Gentex has successfully manufactured HDPE water pipes that are up to customer's satisfaction. In addition to the quality of pipe we provide, we also provide technical advice and support for the success of the customers piping project.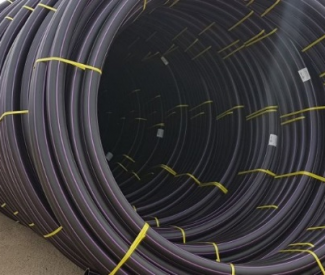 Benefits of HDPE Water Pipes
HDPE Pipes and fittings are considered as the best choice for various projects, and has been continuously gaining popularity. The reason for this is due to its number of advantages.
Features of HDPE Water Pipes.
MECHANICAL PROPERTIES
Extremely light weight, hence easy to handle and transport.

Long Term Resistance to Internal Pressure

High UV resistance to scaling and biological build up

   

High Impact Strength

Excellent flow characteristic leading to significant energy savings
THERMAL PROPERTIES
Low Thermal Conductivity

High Thermal Stability
CHEMICAL PROPERTIES
Safe for potable water supply.

Excellent corrosion resistance and chemical resistance, resulting in a longer life
OTHER PROPERTIES
High Abrasion Resistance

Low Coefficient of Friction

Resistant to Animal Life

Low Flammability

High Weather ability
Application of HDPE Water Pipe
1. Urban water supply system, landscaping water supply network.
2. Oil and gas flow, gas drainage system.
3. Dredging pipeline engineering ( sand sediment transport ).
4. Underground firefighting system.
5. Cable covering ( HDPE conduit ).
6. Tunnel escape and ventilation engineering pipelines.
7. Industrial raw material conveying pipe network, industrial sewage discharge.
8. Fields of farmland irrigation and aquaculture projects.
HDPE Pipes Connection Methods
Polyethylene pipes and fittings  are connected to each other by melting or mechanical fittings. The HDPE pipes made from materials other than polyethylene can be connected to the outside with squeezed inserts, flanges or other suitable adapters made for the purpose. Electrofusion and Butt Welding are the common combination methods.
Electrofusion Welding
The principle of the electrofusion welding method is to fuse the fusion belt in the plugged parts from the parts to be combined with the Electrofusion Welding Machine by melting a certain part of the outer parts of the two parts by heating them with electricity. HDPE pipes made form grade PE100 material can be welded by this method for pipes with a diameter of 20mm up to 1000mm.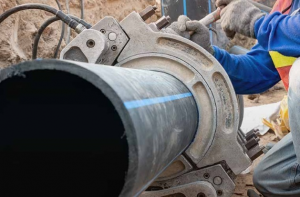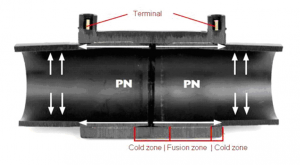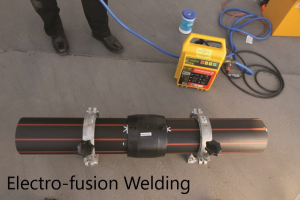 Butt – Welding
This is the most common method used when it comes to joining HDPE pipes and fittings. The joining method is connect the ends of pipes to be welded by using butt welding machine and both ends are pushed toward each other by pressing under a certain temperature. The pipes of up to 1200 mm diameter can be welded by using the welding method.  We supply both manual and hydraulic butt-weld machines.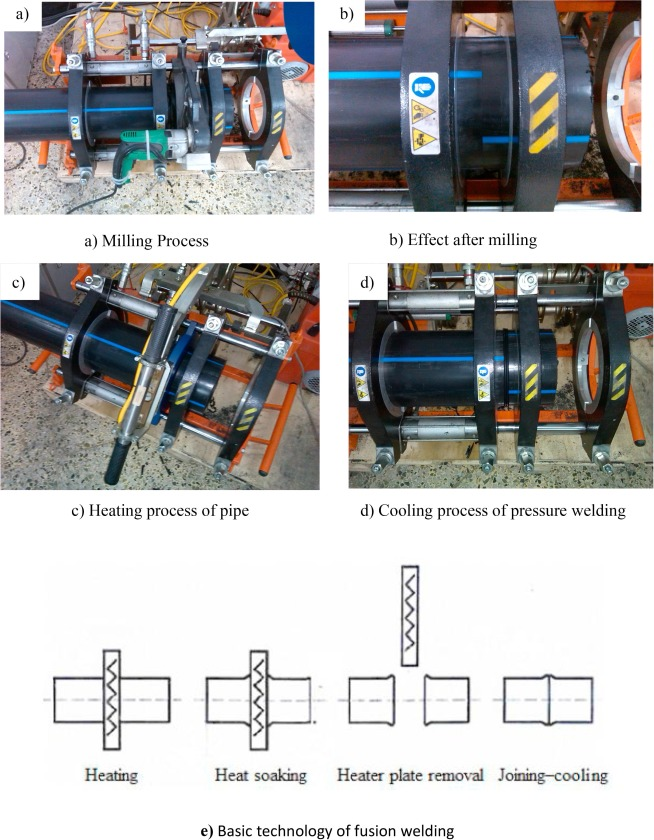 Gentex HDPE Pipe Specification